Distilled 15 November 1989, bottled at the distillery by Leif Olav 23 May 2015, cask number 4148.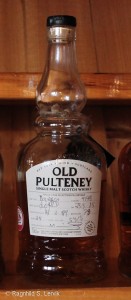 Nose: Fruity. Candied oranges, passionfruit, dried apricot, vanilla and oaky perfumes. With water it gets a faintly perfumed smokiness, incense, perhaps?
Palate: Chocolate confectionery. Dark chocolate with a pssion fruit filling, brittle and i touch of salt. Engine oil shows up when water is added, as does old, dry oak. The finish is long and consists of oak, dark chocolate and dark cherries.
Comments: Very nice indeed. Classic Old Pulteney in many respects, and age has weathered it nicely without letting the oak take over. I've only got a sample, unfortunately, I'd really like a bottle – or five – of this one.