Bottled January 2003, cask number 6182.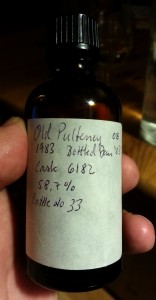 Nose: Barbequed marshmallows, oak, vanilla, plum jam. With water it develops malty notes, both shortbread and digestives, "Kornmo" with real butter and brown cheese. There are also red apples and a hint of honey.
Palate: Sweet pears, light oaky bitterness. With water it develops a cloying sweetness, possibly marshmallows again, but over the top. Not unpleasant in itself, but a feeling that it might become too much very quickly. There is also some juniper wood and sweet apples.
Comments: Obviously needs water to tame the strength. More interesting nose than palate, but despite the lack of hyperbole I am actually pretty sold on this. I'm a little sad that I only have a sample, and since I can't remember who I got it from I don't know whose cupboard to raid, it might have been Morten..