According to Mackmyra's product information, this has been matured in American and Swedish oak, both ex-bourbon and ex-sherry, and then finished in casks that have held Swedish wine made from birch sap.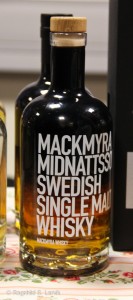 Nose: Different. There's definitely something of sap or resin here. I also get some heather and honey. A little sweet tobacco as well? With water it turns towards throat lozenges, with some mint, ammonium chloride and black pepper.
Palate: Honey on the palate as well, and resin. Vanilla and coriander. More woody with water, but the tobacco from the nose also makes an appearance.
Comments: Quite unique, and very, very good. An interesting nose and a complex, but well-balanced palate. There's quite a bit of "But is it whisky?" over this, but when the result is this good I'm not sure that I care.