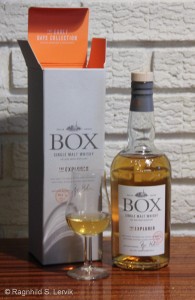 Nose: Singed juniper wood and juniper berries. Lemon. Vanilla and coffee, and spices; chai? More of everything with water, but also chalk and mineral notes.
Palate: A lot. Let's see: Immediately a little burnt rubber and liquorice, then herbs and after a while oak planks and one the finish coffee. The chalk makes and appearance on the palate as well with water.
Comments: I've poured a The Challenger in another glass to compare the two, and I still find Challenger closed on the nose. Explorer has more of a full in-your-face-nose. But they are both good. Very good, in fact. In six months the fourth and last bottling of The Early Days Collection will be released. I will be ready and waiting on the date of release, and once I've got it I will, of course, have a quadrupel paralell tasting. I'm already looking forward to it.