In a ceramic jug, from the 1990ies.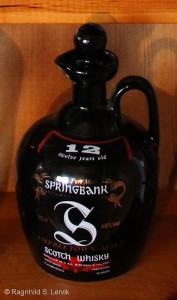 Nose: Raisins, milk chocolate, caramellised something, fried butter and a little eucalyptus. Water brings out the sherry and some congeners, a hint of cellar, possibly some mould.
Palate: Burnt sugar and oak cask. With water the wood tastes rawer, there are a fair few congeners, but also toffee and sherry notes.
Comments: Somewhat strange on the nose, but not at all unpleasant. The congeners are a pluss, they help make the dram more interesting. I prefer the roughness of this to the elegance of the 17 year old. It's ovbiously worth keeping a look out for these old bottlings.