Distilled 1989, bottled April 2002 (newly opened bottle).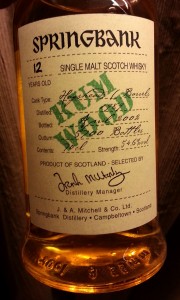 Nose: Rum, apple, butterdough. Chalk and ashes. More ashes with water, but also fresher fruit, green grapes and spruce shoot tips.
Palate: Butterscotch first, malt and cedar wood. The finish is dry, bitter and somewhat ashy, but the buttery taste stays. Water brings out oatcakes with butter, with green grapes, but no cheese.
Comments: Original, but is it good? Unfortunately I have to settle for "No". It's the bitterness on the palate again, and there is not enough sweetness to balance it. And this weird buttery character. Is it because of the rum cask? Rum hardly tastes of butter, so I don't know. Could it be the fattiness of the spirit that reacts this way with the rum cask? In any case, I'm underwhelmed, again.