Distilled 21 August 1996, bottled 26 April 2005, bottle number 158 of 240.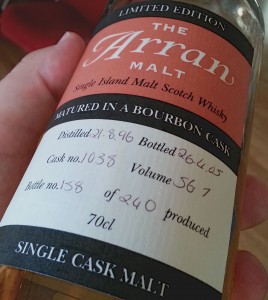 Nose: Malt, a hint of menthol and juniper berries. After a while in the glass tart raspberries appear. Water opens for black pepper and tart pears and a hint of fruity chewing gum.
Palate: Malt, Vademecum, oaky bitterness. Water lessens the impression of Vademcum and develops into something vegetal.
Comments: I can't remember the herby and spicy character being so strong before, but this is another bottle that has been left less than half full for a while. In this case, though, it's a beneficial development. Very nice – and intriguing – nose, somewhat less interesting taste.