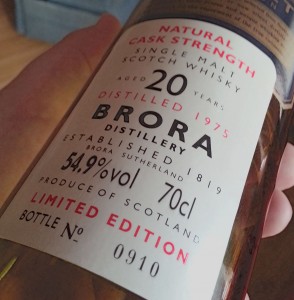 Nose: Citrus, bonfire, a lot of alchohol. With quite a bit of water I get more fruits; melon and sweet pears.
Palate: Cold smoke, lemon drops wrapped in waxed paper, oak. With water a warm spicyness develops, rather a lot of oaky bitterness and yeasty dough.
Comments: This has been left as a dreg for too long, unless my memory of what it used to be like betrays me. It needs quite a lot of water before it's drinkable, and I guess it's been matured in fairly inactive casks since the alchohol is still so obvious after 20 years. It has a lot going for it, but the bitterness on the palate is too overwhelming. I can't remmeber it from before, so I suspect we must take this bottle as a sign that we really should have a spring clean (ok, a summer clean) in our whisky cabinet to make sure any dregs we want to keep are rebottled into sample bottles to minimise oxidation.