Distilled 1989, bottled 2003 (newly opened bottle).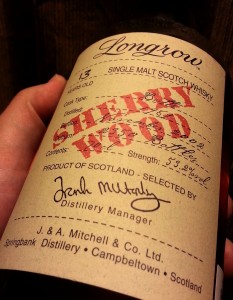 Nose: Plums, apples and a hint of cinnamon. Vague whiff of a lit fireplace and ashes. With water it develops sweathy leather and a lightly bitter note, green tree, tobacco and herbs.
Palate: Dusty malt floors, apple compote with cinnamon, red berries, lightly bitter. The bitterness grows with water, it develops tobacco on the palate as well and gets an obvious saltiness (especially on the tip of the tongue). It's the bitterness, salt and lightly ashy notes that stick around as a finish.
Comments: The nose is lovely and complex, but the palate reminds me of why I'm never completely sold on Springbank. There is too much bitterness for it to work for me.