From a sherry butt.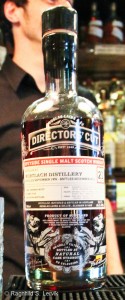 Nose: A lot of oak, clear sherry note, but dry sherry and oak rather than dried fruits, very little sweetness. With water I get dried cranberries, candied orange peel and milk chocolate, but it's still on the dry side.
Palate: Dried cranberries and raisins, but also a lot of oaky dryness. Vanilla. With water I get both oaky bitterness and sherry sweetness, vanilla and oak chips, floor varnish.
Comments: Even though there's not even a whiff of burnt rubber, my main impression is "over oaked". It tastes of oak chips. The nose is beautiful, but can't make up for the taste. It's not a bad dram, but it's no where near worth the asking price (2495 NOK at Vinmonopolet, I paid 200-something NOK for 2 cl at The Whisky Bar in Oslo).