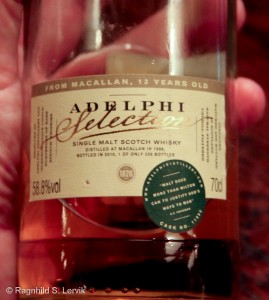 Nose: Toffee with a hint of mint. Dry oak and vanilla. With water it develops raisins and baked apples, but the vanilla gets a somewhat rotten side note.
Palate: Too much oak? After only 13 years that's actually kind of impressive. Oak, varnish, slightly rotten wood. With water it develops some bitterness, which for once is a good thing as it kills off the note of decay.
Comments: I'm ambivalent, but land on "No". Too much cask and it's also all over the place and tastes different for every sip.