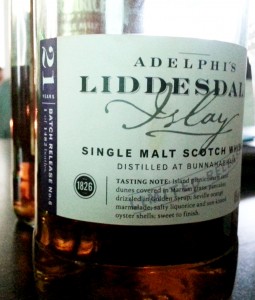 Nose: Newly struck matches, dried red berries. Water adds tartness to the nose, I get lemon but also a little sulfur and a hint of liquorice.
Palate: The malt is obvious, even through the fairly heavy cask influence. Newly struck matches, oak and dry sherry. Water opens for bitter chocolate and dry forest. Dry cocoa and barley dust on the finish.
Comments: I'm rather more impressed this evening than when I had it as part of a tasting the other day, I found it a bit too bitter then. I still miss a compensating sweet note, or at least I think I do. There is something not entirely "complete" about the sherry character. Still, a nice dram, I'll have another if you're offering.