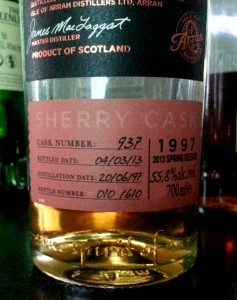 Nose: Dried apricots, milk chocolate and thyme. Witn water I get honey, some lemon and malt. There's also something flowery on the nose, tending towards lilacs without feeling too perfumy.
Palate: Orange marmalade and then bitter oak which softens substantially on its way through the mouth and becomes cream and milk chocolate on the finish. Fascinating. Water does not change that, but adds a floral note, and reveals malt on the finish.
Comments: This is the shit. The bee's knees. I recently tried one of this year's casks, presumably on its way to Vinmonopolet, and it was lovely as well. Quite simply one of the best buys at Vinmonopolet right now, at less than a thousand NOK. And since the importer is nice enough to list each cask separately (and believe me, that adds expense and work) you know exactly what you get when you order it.