Bottled in 2008, cask number 401 gave 322 bottles.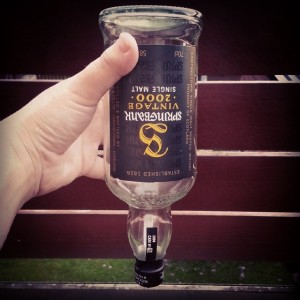 Nose: Potato crisps with paprika. Malt and vanilla with a touch of smoke. With water I get balck pepper and a dose of barbequed chicken.
Palate: Smoke, ashes and malt. With water, much of the same. Not that this is a peat monster, the smoke is contained, but very clear. Salt bisquits and on the finish something vegetational.
Comments: Bottle-kill. The last few cl have been hanging around the bottle for a while, so that might have affected the taste. Takes a lot of water. This was the first Springbank I liked well enough to buy a bottle of, and it's therefore a sort of milestone in my personal whisky history.