Highland Park announces the launch of a new whisky: Dark Origins. According to the press release it is " inspired by the cunning spirit and courageous personality of its founder, Magnus Eunson."
Magnus was a cunning soul, apparently, working as a beadle during the day, but as a smuggler and possibly illicit distiller by night. He has been connected to the founding of Highland Park distillery, though the story they tell on their website is somewhat more academically hesitant than the Dark Origins press release.
In any case, a new, widely available expression of Highland Park is interesting news. The only "leak" about it prior to the press release embargo of 1st July 00.01 is the label design, which  has fallen into the hands of The Whisky Ledger.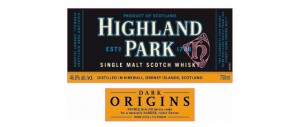 Dark Origins is bottled at a strength of 46.8% ABV, is non-chillfiltered and non-coloured, and substantial amounts of first-fill sherry casks have been used in its maturation, twice as many as for the standard 12 year old. As Dark Origins is a NAS (No age statement), the use of the casks may be a necessary virtue, sherry is known to mask a lot of things, and youthful spirit is one of them. With the market the way it is, the release of a NAS comes as no suprise and may be a very wise move. The important thing, as ever, is what does the whisky taste like, not how old it is.
I've been lucky enough to receive an advance sample of Dark Origins, and so I present you with my tasting notes:
Nose: Milk chocolate, fudge, newly struck matches and very subtle smoke. Warm wood and spices, I think cumin comes closest to what I'm finding. The nose loses some sweetness after some time in the glass, and aquires tarter and fruitier notes, which are emphasised with water. Tart mango? With water the sherry cask is also immediately more obvious, with burnt matchs and leather, but also grilled meat. Spareribs?
Palate: Surprisingly little sweetness. Ashes, heather and lemon. A little sufur. Water emphasises the cask on the palate as well, dry sherry, burnt oak and old leather. There is smoke, but though obvious it is not overwhelming.
Comments: A lot of people are going to like this (though if you dislike the smell of burnt matches you might just hate it). Some may be disappointed at the lack of sweet notes, but I was pleasantly surprised at how well the dryness suits this whisky. Out of interest I tried it against the very lovely Arran sherry cask (sherried island whisky against sherried island whisky) and actually liked it even better than when I tried it first on its own. Dark Origins doesn't beat the single cask, but it holds its own, and that's quite impressive in a NAS. A very good candidate to one of those "must always have a bottle at hand" slots in the cupboard for those nights when you just want a good dram and for bringing along to social occasions to share with friends.
Dark Origins will be rolled out internationally starting now, and to attract some attention Highland Park are planning The Dark Expedition in the second half of august. I've been invited to join, and since I like sailboats even more than I like whisky (if that's at all possible) I hastily cleared my calendar. There are also two places up for grabs to a Highland Park fan, so if you fancy a trip across the North Sea, check out the details at whiskynyt.dk.
Addendum: Highland Park has now written about Dark Origins on their blog and we can see the final label design (which differs somewhat from the leaked version).