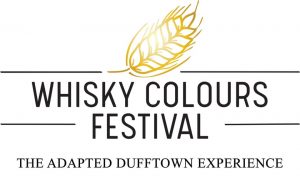 It may be rather inaccurate by now, it's been a few years since I was able to attend, but I still consider myself a "Dufftown festival regular". The spring festival, Spirit of Speyside, covers a much larger geographic area, while the autumn festival has always been more confined to Dufftown. Since I was last at a festival, disagreements between Whiskyshop Dufftown and the organisation Dufftown 2000 have resulted in two parallel festivals that "just happen" to fall on the same weekend, as far as I've been able to determine. The festival run by Whiskyshop Dufftown was relaunched as Whisky Colours Festival in 2019. And as 2020, as you know, has been a bad year for gathering significant numbers of people for a festival, other solutions had to be found. In August of 2020 we discovered that the autumn festival was going digital, and that just 20 tickets – or rather "memberships in the Whisky Colours Club" – were to be released at the end of the month. Hence we were both in (digital) attendance on the release date and snagged a membership each.
View this post on Instagram
Some weeks later a large box was delivered by TNT, and we did our "unboxing" interspersed by quite a few expletives. 85 pounds was the price of the membership, and what with customs and such we ended up paying around 2000 NOK each altogether, but the contents seemed to us (in an understatement) to be well worth it. Included were drams for eight tastings (4-5 per tasting), a few dregs bottles (around one full bottle between the two of us) and of course nosing glasses, a t-shirt and bottle barbeque sauce containing whisky.
We had originally assumed that there would be more tickets made available for the sessions, and that the 20 "inaugural memberships" just meant more perks/full tasting package or whatever. But as it turned out, it was just us 20 – plus a couple of people from Whiskyshop Dufftown and the distillery/bottler representative – who would attend the sessions. A very exclusive club. And much more intimate and reminiscent of the physical Dufftown Festival. Compared to the Whisky Show's digital festival (to which I also had a ticket) with hundreds – or possibly thousands – of "guests" and livestreams more in the broadcast category, Whisky Colours turned out to be both more engaging and more binding. When a guest did not attend a session it was noticed, since we were so few. It really felt like being at an actual festival, even if it all happened over Zoom (and with more comfortable chairs). The friendly banter (or heckling) between the participants, which really is part of the charm of a "small, intimate" festival like the autumn festival in Dufftown, was there in spades, and there was plenty of opportunity for asking questions of the pros.
Would being in Dufftown for real have been better? Of course it would. But even disregarding the pandemic, a trip to Scotland in September/October would not, unfortunately, have been on my list of priorities in 2020. Being able to participate from my own living room was a major boon, and even when physical festivals become possible again I hope that some of those who have now gained experience in hosting digital alternatives will keep doing so – as an addition, perhaps, rather than a substitute. And I bet the two "festivalgoers" from Japan agree with me.
The opportunity to purchase a membership to the spring edition of the festival, May Be Another Whisky Festival, has come and gone. Even though the number of tickets was now 30, they were still sold on the first day. I was ready, though, and have my ticket.
I have notes and pictures from this autumn's tastings that I should have published eons ago. I will make an effort over the next few days (weeks…). An obvious goal must be to have published them all by the time the next festival starts on 30th April.