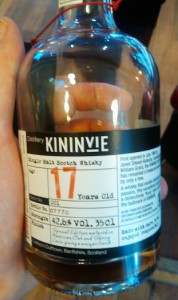 Nose: Toffee, rose water, dry birch wood. With water dried raspberries, green jelly babies, blackboard chack and a hint of aniseed.
Palate: Half-rotted wood, but also something fruity. Somewhat more bitter with water added, and the impression of decay is lessened.
Comments: My first reaction when taking a sip was "Ouch". That's not really a reaction you want, to put it that way. The nose is really very good, but the taste is just not working for me at all. With the reservation that it was tasted in the middle of the 7 Stills Tour of Dufftown, the only other single Kininvie I've had was much better.