Cask number 3209.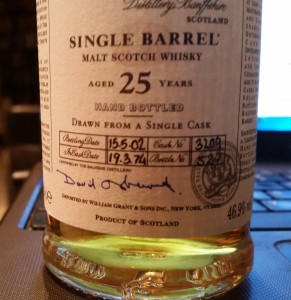 Nose: The first impression is fruity and flowery. Vanilla, tinned fruit salad, cedar wood and dry oaky bitterness follows. Water brings out apple pie with cinnamon, a pie with a somewhat soggy crust.
Palate: Banana and oak, clear malty notes. Dry oakish bitterness on the palate as well. Water doesn't make much difference, the oak turns greener. The finish has something reminicent of calvados.
Comments: Quite nice, but doesn't quite make the grade. I can't help think price/performance. It's nice, yes, but not THAT nice. My main gripe is with the dry oaky bitterness permeating the whole. But would I go for a second dram if offered?  You betcha.
Thanks to Geir Tore for the sample and the picture.