Cask number 1973, distilled 11.12.1996, bottled 31.03.2011.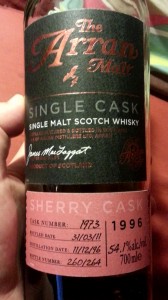 Nose: Apple compote with cinnamon, dark chocolate, fragrant roses. A little water adds mint, orange peel, jasmine and lemon.
Palate: Oak and apple peel, honey, black pepper and dark chocolate. More chocolate with water, orange marmelade and bay leaf.
Comments: Yet another stunning sherry cask from Arran. Confirms the rule that these are a steal at almost any price (this particular cask has not been available in Norway, but those that have have been just as good).
Thanks to Bjørn for the taster.