An Aberlour bottled in the 1980ies, when adding "Glenlivet" to your label was still in vogue.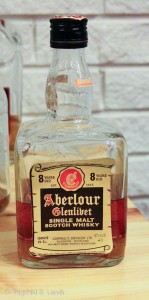 Nose: Butterscotch, some dry oak. Water brings out a little fruit; apples and some pineapple.
Palate: Fudge with rum-raisin flavour. With water, slate and more fudge.
Comments: Not the most complex of whiskies, but definitely a nice every-day sort of dram. Just the tiny hitch of it being unavailable nowadays, of course.