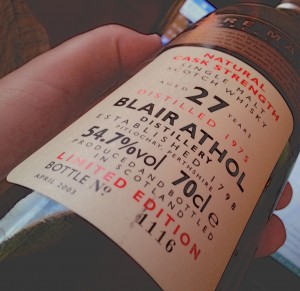 Nose: Dried fruits (apricots, cranberries), acetone and wood varnish, banana, vanilla and rosemary. Obvious alchohol at full strength. Water tones down the alchohol and brings out pine needles and menthol, milk chocolate and black pepper.
Palate: Menthol, acetone, dried apricots and ginger. With water I also get dried banana, a little oak and sauna – as well as orange peel on the finish.
Comments: It just doesn't get much better than this. You could spend hours picking through the nose and flavour on this one. It demonstrates just why Rare Malts used to have such an impeccable reputation (though the last couple of years of Rare Malt releases did not seem to live up to it). A very clever purchase, if I may say so myself (it was a birthday present for Arve quite a few years ago).