Distilled 21.02.1975, bottled 05.08.2010, matured in an ex-bourbon cask with cask number 553.
It's an open secret that Signatory's Rare Ayrshire contains single malt from Ladyburn, but they are not allowed to state so on the label.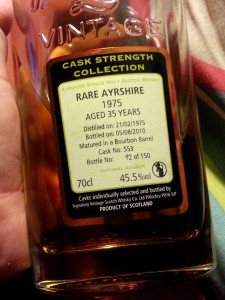 Nose: Shortbread, honey. With water I get tart apples and after a while vanilla and sherbet powder.
Palate: Fruity oak, maltiness. More apple pie with water.
Comments: Not bad at all, though less complex than I could wish for.