Batch Bav 2, bottle number 840. This aquavite has been cask matured both before and after distillation in Spirit of Hven's potstills, which, according to them, gives it more depth.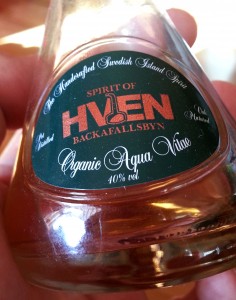 Nose: Smells more like Underberg than aquavite. Very herby and a lot of sweet herbs, too. Rosemary, basil and cumin. Hints of toffee and coffee sweets. The oak is also quite evident.
Palate: Cumin and lemon, but also sweetness. Dry hay. Salt on the finish.
Comments: Quite original, and quite nice, but lacks a little balance. It's a bit all over the place, especially on the nose. Still, not a bad dram.