A parallel tasting of the old version of Highland Park 12 years old, bottled in the late eighties at 43% abv, against the current version of Highland Park 12 years old, also bottled at 43% abv.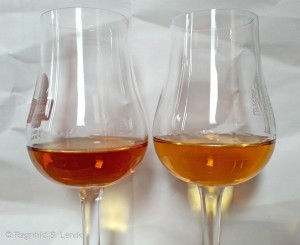 Colour: The old version is considerably darker than the new one. But as they are both undoubtably coloured with E150, this doesn't tell us much (except, perhaps, what impression the distillery wants us to get when looking at the whisky).
Old version

Nose: Sweet woodiness, wax or Play-Doh, milk chocolate, plum in Madeira and ashes mixed with grain dust. Water brings out citrus, lemon and lemongrass, but also some other herb. Thyme?

Palate: Play-Doh, orange peel and orange marmelade, honey.

New version

Nose: Wooden notes, but lacking the sweetness of the other. Somewhat barren vegetation, juniper trees and non-flowering heather. After a while in the glass it releases some congeners and appears younger, but with a little water this disappears and I get citrus and a hint of smoke. After even more time I suddenly get "krumkaker".

Palate: Rougher than its older cousin. Oak and some sort of dried spice. Orange marmalade on the finish. With water I get chocolate, but a dark and somewhat bitter variety. Some lemon and citrussy notes.
Comments: It is interesting to see how different these are, but that there are still common threads. For example they both react to water by releasing citrussy notes. The new version gives the impression of being younger, which will count against it for a lot of people, and it is wholly lackig the waxy notes I found on the old version. To someone who loved the old version, the new "design" will probably seem all wrong, but I think I prefer it (marginally). Both are excellent "standard whiskies", neither is a perfect ten. I would not complain being served a dram of Highland Park 12 years old (no matter what decade you purchased the bottle) but somewhere with a wide selection I would be likely to look for something more exciting.
Thanks to Morten and Håvard for the samples.