When I set out to record the details for this cask, which Mackmyra brought a sample of to Östersund Maltfestival, I got confused. What do they actually mean by "förlagrad" ("pre-matured")? When the label says that the cask was filled ("fatfyllning") 30 June 2010 I'm assuming they mean filling of the 30 litre bourboncask which the whisky is then bottled from, but what, exactly, is being filled into this cask in 2010? How old is the spirit and what had it been stored in previously?
A quick search, and I found that Mackmyra provide the answer on their cask offer pages. If you buy a cask from them, one of the spirit varieties you can choose is "förlagrad elegant", which means that the spirit will first have been matured in a 200 litre ex-bourbon cask (i.e. a bourbon barrel) for three years before it is filled into your 30 litre cask of choice. In other words, it is already whisky by the time it's filled into the tiny cask, and you would be justified in calling the extra maturation a sort of "finishing".
In any case, here are my notes for this specimen of Macmyra's "elegant" (that is: not peated) spirit, matured for three years in a bourbon barrel and then for almost three years more in a 30 litre ex-bourbon cask.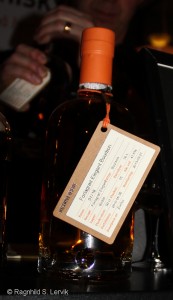 Nose: Vanilla, fresh herbs, gooseberries and tropical fruit. More oaky with water, and some sweetish spices; cinnamon?
Palate: Vanilla, wood and oaky bitterness. Tropical fruit and a hint of coconut (pina colada!). Water tempers the bitterness somewhat and I'm left with vanilla, fruit and coconut.
Comments: A very pleasant dram. A little too bitter on the palate, but nice even so.