In May Myken Distillery finally release their first product, a gin, on the Norwegian market (i.e. Vinmonopolet), and I thought that a good excuse for a vertical tasting. So here we have batch 1 at 47.3%, which I've already got notes up for, batch 2 at 47%, a sample I got when I visited Myken for their official opening i September, and batch 3, the one which will be available from next Friday, also at 47%, in an appealing half litre bottle with the awesome label designed by Metric Design. Please note that I happen to have the coolest bottle from the batch, number 42 (the answer, as we all know, to life, the universe, and everything). Pretty much the best birthday present I've had for some time (and, yes, I turned 42).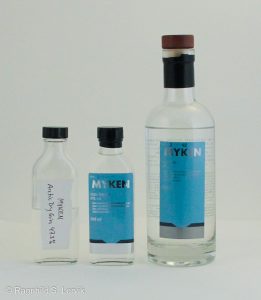 Batch 1
Nose: Cucumber, juniper, fresh herbs, coriander and cumin.
Palate: Juniper twigs, light liquorice. More soapy coriander with a few drops of water.
Batch 2
Nose: Herbs and sea foam. Juniper and cumin. Something quite waxy, as well as warm wood.
Palate: Soapy coriander, herbs and more sea influence.
Batch 3
Nose: Juniper berries and a sweet juniper wood note, fresh herbs, black pepper and sea.
Palate: Soapy coriander, faint liquorice, juniper berries, spruce twigs and orange peel.
Comments: There is definitely a clear relationship between the three batches. A little tweaking of the spice mix has obviously been going on, but no radical changes. In my opinion they're going in the right direction with the tweaking, too, I marginally prefer batch 3. All three are excellent sipping gins, and it would suprise me if they didn't also work in drinks, from the reasonably simple G&T to those with a list of ingredients as long as your arm.
Myken Arctic Gin will be available to order at Vinmonopolet from Friday May 6, for 509.90 NOK for 0,5 litres. The order number is 3957902 and there are only a couple of hundred bottles available in this first release, so if you want one you shouldn't hang around.