Distilled September 1996, bottled September 2013, from a refill hogshead, DL ref 9903.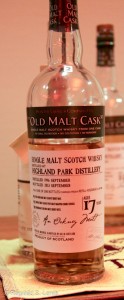 Nose: Smoke, honey and heather. With water it develops a fresher character, of green apples and grass.
Palate: Honey! Lightly smoked. Water opens for malt, but there is still a lot of honey.
Comments: A perfectly decent Highland Park.
Tasted at Oslo Whiskyfestival 2014.