This is one of three Bladnoch bottlings from 2008, released to showcase the spirit made after Raymond Armstrong & Co purchased Bladnoch. The two others are Sherry Matured and Lightly Peated, tasting notes to follow. As the fate of the distillery is uncertain again, it seems an appropriate time to taste these. I hope a serious buyer turns up soon; that there is potential for great whisky to be made at Bladnoch is beyond doubt.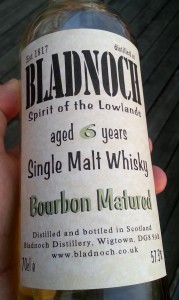 Nose: Young spirit. Citrus, especially lemon, and a somewhat chemical whiff, which leads the mind to lemon-scented cleaning solutions. There is also a flowery note. With water vanilla makes an appearance, and I am strongly reminded of the lemon-flavoured vanilla cream filling our local Italian cafe favours. I'm not such a big fan (I like my vanilla cream filling to taste of vanilla), but in a whisky it's not all wrong. Unfortunately there is also a sweetish off-note and a whiff of barnyard (the sort of notes likely to be polished off with a few more years in the cask, though).
Palate: The malt is apparent on the palate, but the main impression is again young spirit. Vanilla bitterness and a light oaky note, as well. With water it turns undefinably nicer.
Comments: It's not undrinkable, but it's not a stirlig advertisement for Bladnoch, either. First and foremost 6 years is obviously not long enough for this spirit, but I'm also missing some complexity which is normally evident in young whiskies aspiring to be great when older.