This completes the series. The first bottlings of Bladnoch from Armstrong & Co: Bourbon Matured, Sherry Matured and here Lightly Peated.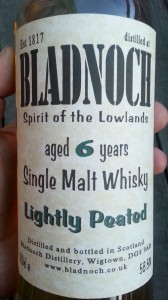 Nose: Subtle smoke, wood fired sauna, vanilla and vanilla sauce. With water the vanilla is emphasised, but not in a good way. It is most reminiscent of vanilla sauce made from powder that has been somewhat burned and then left to coagulate in the pot over night. There is something artificially intense over the vanilla.
Palate: Cloying wood, vanilla, and wet, rotting, singed wood. More vanilla sauce with water, though lightly smoked vanilla sauce.
Comments: The advantage of owning one's own distillery is being able to experiment. The disadvantage is that, unless you have access to unlimited means, you sooner or later have to bottle and sell the results of your experiments. This particular bottling is not a complete disaster, it's drinkable, but only just. The palate is all right once the water has removed the rotting wood note, and again I'm left wanting some sort of complexity.