This 8-year-old was launched in 2009, and was the first broadly available bottling from Armstrong & Co from Bladnoch. Let's see if it comes across as mote mature than the 6-year-old.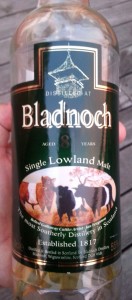 Nose: Spirit, lemon, lilacs, vanilla and malt. With water I get mealy, but still tart apples, heather and brushwood.
Palate: The vanilla is apparent, the malt hiding behind it. Dry wood and yeasty dough. With water it turns to fruit; lemon and apples. Oaky bitterness on the finish, which is middling to short.
Comments: Surprisingly drinkable at 55% for such a young and light whisky. If adding water, add more than just a few drops as with just a drop or two it turns a bit wild. Chemistry is odd stuff, but you obviously release congeners of some sort. With a bit more water it's quite pleasant.
A light whisky, it still shows its age, but is far more promising than its younger brother.
On another note entirely: Notice the nice colours refected in the bottle in the picture above. It's caused by the fact that I went out on the veranda to snap a picture, and this is what the sky looked like: