Distilled 14 Desember 1973, cask number 15933. First Cask is a series of bottling from Direct Wines Ltd.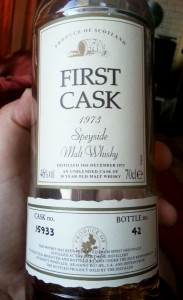 Nose: Lemon and lemongrass, goosberries and oak. With water my mind turns to jasmin and incence, but there is still quite a bit of lemon.
Palate: Oak, heather and mildly rotting fruit. More bitter with water, but also more vanilla and fresher fruit.
Comments: This must be ex bourbon, and not a very active cask, either. Not bad, but not so good that I will mourn its passing, bottle kill will happen this evening, there are only about two drams left in the bottle.