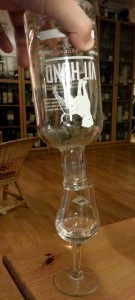 Nose: Malt first and foremost. Citrus and Haribo peaches, congeners in appropriate amounts. With water comes orange peel and orange blossom. Grilled chicken breast and apricot chutney.
Palate: Malt, a hint of sulfur, yellow apples. With water the malt turns doughy, and I get strong associations to a "Full Scottish Breakfast" without managing to pinpoint why… White pudding, perhaps? Or haggis?
Comments: Quite my cup of tea. There'd be no point in maturing this, except it results in another product entirely and so why not have the best of both worlds?