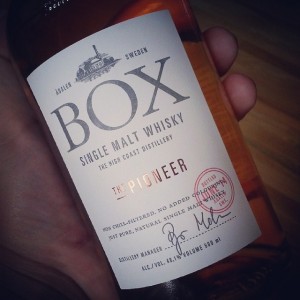 Nose: A bit rough, you can smell its age. Pear lollies and spruce. Water adds bay leaf and lemon, rosemary and some congeners. More water tames the congeners and brings out the malt.
Palate: There's something undefinably young on the palate as well, but it's a well-balanced dram, with black pepper and wood, a hint of acetone and something fruity. Plums, perhaps? Water emphasises the acetone, but also provides peach jelly and more wood. With quite a lot of water it blossoms. The pepper is still there, but otherwise I get vanilla ice cream with lemon balm.
Comments: It presents as somewhat too young, but with enough water it's quite nice. I remeber the Försmak edition I tasted at TWF as less congener-affected, but then that was a peated version and peat does conceal rather a lot. I've poured another and let it stand for half an hour or so to breathe, and that has helped a lot. I doubt I'll add water now, it's nice as is. The overall judgement is promising rather than perfect, but then I guess the destillery would agree, they have, after all, released it as an early days edition.