Nøgne Ø is getting better and better distribution in Norway after being taken over by the Hansa-Borg group. Even my local grocery store (quite small) has a decent selection of their max 4.7% abv. beers. Amongst them is the lastest offering Asian Pale Ale – a light refreshing ale with generous amounts of lemongrass (end quote).
It should be said that I'm no great fan of lemongrass and might be slightly biased when it comes to reviewing this ale.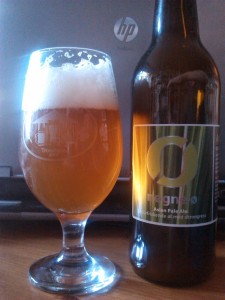 Colour: Hazy deep golden
Nose: Fresh sitrus with a dash og malted barley and some wheat. The lemongrass is present without making a nuisance of itself.
Palate: Light, watery taste of lemongrass soup with some malted cereals. A slight bitterness hiding in the background acting all shy.
In summary: I won't be purchasing this ale again, but I can see it  going well with sushi and lighter asian foods. Or as a thirst quencher for those who aren't biased against lemongrass.