We had time for a couple of quick samples of the various spirits Gammelstilla are producing, here are my hasty notes:
Gammelstilla newmake

Nose: Malt! Citrus, melon and generally a lot of fruit.
Palter: Congeners, citrus and lemon.
Comments: A very clean nose.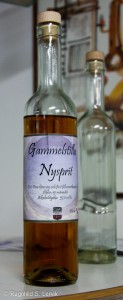 Gammelstilla "Nysprit" 15 months 57 %
Matured in five litre casks made from new and first fill American oak.
Nose: Vanilla, bourbon, citrus, malt, wood and sauna.
Palate: A little too heavy on the cask side, at the same time a little too young.
Comments: The nose is still impressive, promising stuff.

Gammelstilla "Nysprit" 11 months 63,1 %
Matured in 15 litre casks made from new Hungarian oak for 5.5 months and then in 15 litre ex-bourbon casks for 5.5 months.
Nose: Different. Sweeter vanilla, wood (sauna), tropical fruits; pineapple, possibly grilled.
Palate: Vanilla, wood. Bitter on the finish.
Cask matured for up to a year. Available at Systembolaget.
Nose: Liquorice and fennel.
Palate: A lot of dill on the palate, also fennel and… rosemary?
Comments: I'm imagining it would go well with fish because of the dill.