This is a bottling from a private Box cask, a so called "ankare". The cask – or rather the contents of it – belong to Tobias Johnsson, who explains that Lengyel Utca 9 means Poland Street 9, which was his first address in the Hungarian town of Szeged where he studied. He chose a cask of hungarian oak for sentimental reasons. A big thank you to Tobias for the sample, it tempts me further towards buying my own "ankare" when the results can be this good.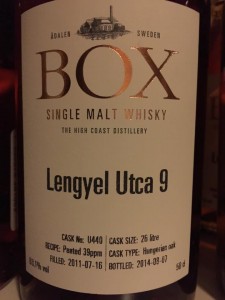 Nose: Juniper and cask. Lemon and oak staves. More spice with water; rosemary and thyme, vanillin, cinnamon and oak.
Palate: A somehat harsh and bitter oakiness, but also vanilla and dark chocolate. With water the harshness disappears and it aquires some black pepper.
Comments: The only drawback to this one is that the spice and vanilla in combination reminds me of scented candles and I really do not like scented candles. Apart from that it's a lovely dram, much better than the other Hungarian oak bottlings I've tried. It keeps nicely to the distillery character and is well integrated in a way small cask bottlings rarely are.