Filled into cask 20.05.2011, bottled 15.09.2014.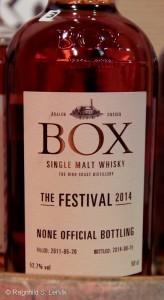 Nose: Rosemary and lemon. Cinnamon and oak. With water I find dark chocolate and coriander seed. Dust and black pepper.
Palate: Milk chocolate, burnt sugar, juniper wood and oak staves. With water the chocolate turn darker and the wood gets an accompanying spicyness; bay leaf and pepper.
Comments: It's a pity I don't have a bottle or three of this stashed away. It was a sample, and now it's gone. Ah, well, I enjoyed it thoroughly while it lasted.