In contrast with the last couple of Mackmyras this one is not "förlagrad" (pre-matured). When the cask was filled on 28 May 2007 and the bottle filled on 15 November 2011 we're talking about a straigh forward four year old whisky. On the other hand, it's been matured in a 30 litre ex-sherry cask, which should give it a lot more cask influence than a four-year-old from a full size cask.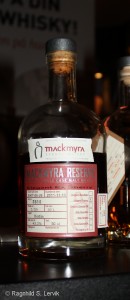 Nose: Red berries, dried cranberries, vanilla and something port-like. With water it acquires a hint of liquorice, but also more fruit.
Palate: Sherry, and raisins with a hint of cardboard. With water the cardboard transforms into bread dough, other than that the main impression is "sherry".
Comments: Decent, but nothing more. Better on the nose than the palate.