Mackmyra Midvinter has been finished in Bordeaux casks, glühwine casks and sherry casks. Which leads me to expect mulled wine, really. We'll see.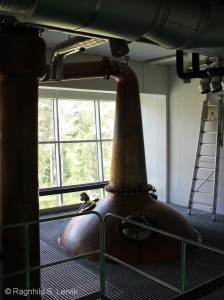 Nose: It definitely smells of herbs, and herb schnaps. Not quite Underberg, rather a sweeter version. Sweetness and Christmas spices, and a hint of toothpaste. There's this odd (to me) toothpaste variety with cinnamon flavour; that's what this smells like! More of that with water. With a lot of water some fresh fruit emerges, pears, perhaps?
Palate: Toothpaste with cinnamon flavour is a pretty accurate description of the palate as well. Cloves and other Christmas spices also appear. Bitterness, oak and cloves on the finish. Water makes no noticeable difference.
Comments: This is just plain weird. It's not unpleasant as such, but it's not "whisky", and not quite good enough to convince me not to care.