So here's another variety of the "förlagrad" (pre-matured) Mackmyra, for this one it's three years in an ex-bourbon barrel, then three years minus one week in a 30 litre cask made from Swedish oak. The latter is presumably a new cask, and would be expected to provide a lot more to the spirit than the pre-used one.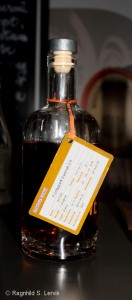 Nose: Vanilla and toffee. Tropical fruit in teh background, roasted nuts and garrapinyades ("brente mandler"). With water I still get the nuts, but also Four Red Fruits tea and oak.
Palate: Oak, honey, thyme and heather. More oak. Oaky bitterness. A lite liquorice and dark syrup on the finish. Water increases the bitterness, but I also get fruit tea (fruit infused black tea) with atrificial sweetener, especially on the finish.
Comments: Not my cup of tea (almost literally). Not horrible, but too… Well, too much bitterness and the sweetness that is there is not a balance, because it comes across as artificial. And I don't like fruit infusion teas, so that's a bit of a non-starter.