Filled 5 October 2011, bottled 29 November 2014, unpeated spirit matured in a 40 litre ex-oloroso sherry cask.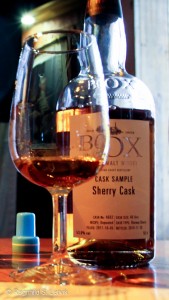 Nose: Butterscotch, a lot of butterscotch. A little roasted grain. With water, rubber appears on the nose as well; warm car tyres. And a hint of black pepper.
Palate: Burnt rubber, garden hose and a faint whiff of toffee. it's all less intense with water, but the impression of chewing a garden hose lingers.
Comments: WAY too much cask influence, for my palate. I'd MUCH rather have the adolescent congenners of the bourbon cask variety. It's interesting to taste this, especially in contrast with the other, as it's a text book example of cask influence making all the difference, but unfortunately it's not a drinkable dram.