Filled 4 July 2012, bottled 6 February 2015, peating level 43 ppm, matured in a 40 litre ex-bourbon cask.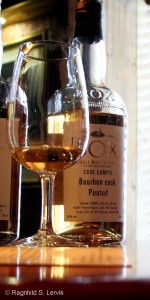 Nose: A bonfire that someone's thrown some juniper branches on over which spareribs are being grilled. When I add water the sweetness and heat disappears and I am left with cold smoke, flint and juniper berries.
Palate: Cold smoke, in contrast with the heat on the nose, lemons and herbs. No significant development when water is added.
Comments: Wow, that's a bit of a split personality on the nose. I liked both varieties, but preferred the hot and sweet undiluted character. The palate is perfectly fine and demonstrates how much can be disguised with a bit of peat, this they could easily bottle and sell as far as I'm concerned, something I wouldn't advice doing with the unpeated variety. Another dram? Well, if you won't need to twist my arm.