Filled 30 June 2012, bottled 8 January 2015, unpeated spirit matured in a 40 litre ex-bourbon cask.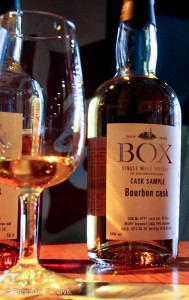 Nose: Cumin and pine needles, vanilla and some congeners. A little lemon with water, more congeners and black pepper.
Palate: Black pepper, vanilla and spice, but also a little sulfur and congeners. The young age is emphasised with water, but the pepper stays, also on the finish, and I get some candied lemon.
Comments: Young, but promising. Definitely appears unfinished, not really ready for drinking, but then the point of these cask samples is not to sell drinking whisky (yet).