It's not often a new beer pops up in Norway that has no hits on the interwebz. This is such a beer.
Innis & Gunn are famous for their wood matured and cask matured beers and this newest one is no different. It's matured over Bourbon-infused American oak heartwood for a full and rich bourbon flavour. So let's see if it's true.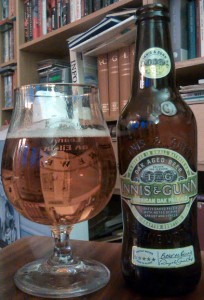 Colour: Deep golden, edging towards light brown.
Nose: Vanilla and oak, in other words bourbon. A hint of fresh green apples is also present.
Palate: Light almost a bit watery start. But the bourbon flavours come out in force as we go along. The green apples still linger in the back. The bourbon lingers on and stay on the palate for a long time.
Summary: If you don't like bourbon, stay away. It's refreshing and a bit different, but the bourbon flavours are a little bit overpowering for me.