In Dalarna, Sweden, a microbrewery was started a little over a year ago, Dalarado. The man behind it, Chris Slawson, a native of Colorado, USA, had started homebrewing with his best mate there. But his heart lead him to the Swedish countryside and the little town of Malung (pop. 5126). After brewing at home for some time with ever increasing quality the dream of a proper brewery started to grow. During the winter of 2012 things were set in motion and a 200 litre brewery was installed.
Today 800 bottles are produced each week, mainly of the tre standard brews: an American IPA, a Rye Pale and a Coffee Stout. To celebrate their one year anniversary they produced a limited edition beer – Dalarado The Year One, a belgish triple with chanterelle mushrooms!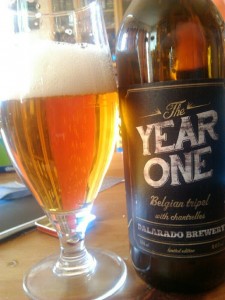 Colour: Clear amber-yellow.
Nose: Smells like a low tone triple with a earthy tone in the background.
Taste: Ooh, this was strange. Sweet vanilla, mushrooms, strawberries, earthy/musty tones and a hint of yeast.
In summary: Not all there, but a fun experiment. The mushrooms gave the brew too much strangeness for my palate. Don't see mushroom beers taking over the world anytime soon.