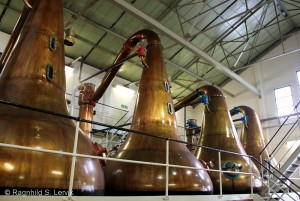 Nose: A hint of barnyard on this one, too, but mostly quite clean smoke. Less fruity than its baby brother, but some pear peel and winter apples. The barnyard disappears entirely with water, and I'm left with smoke, iron, slate and a hint of sulfur.
Palate: Now we're talking! Too much alchohol at this strength, but still smoke, roots and coriander seeds. A little fruit appears with water, but mostly there's smoke and more smoke.
Comments: They could bottle this, but I think I will advise maturing it for another 9-13 years. It's nice now, but it gets better.