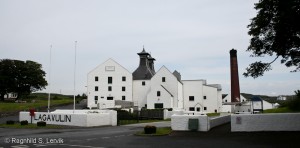 Nose: Sulfur, apricots and recently extinguished match. With water I find more tropical fruits, "grønnsåpe" (a traditional soft soap) and ashes, and a barnyardy note.
Palate: Barnyard, ashes and apple peel. The most intense barnyard character luckily softens with water, and I'm left with red apples, peat and ashes.
Comments: I can't remember the rather intense barnyard notes from the last time I tried this, but then that was in the warehouse at Lagavulin and I don't know how clear-headed I was (not that I'd drunk much, neccessarily, but just being on Islay can turn your head, you know). Once it's softened on the palate after a sufficent amount of water has been added, this is a pretty good dram, but not so good that I wouldn't rather have them mature it for a few years. I've tasted far better newmake (even this  week just gone) considered from a "drinking it as it is" point of view.