In order to really test the sample of Myken newmake, I lined up two other newmakes to try in parallel. One was not even a sample, Mackmyra Vit Hund is available at Systembolaget in Sweden for 319 SEK for 50 cl bottle. The other spirit I let Myken test its mettle against was a sample of Glenburgie newmake. To my delight (yes, I will happily admit to rooting for the Myken project) the sample from Myken stood its own. The Mackmyra is perhaps more polished, but it's also a product meant to be sold and drunk as is. The Myken spirit is intended for maturation (so is most of the spirit off the still at Mackmyra, of course, but I suspect they chose the batches for Vit Hund with care). The Glenburgien had a pleasant nose, but was unfortunately undrinkable once water was added, and that's simply not good enough in this company.
But enough waffle, here are my impressions of the Myken newmake: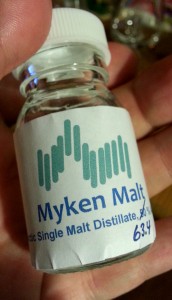 Nose: Malt, milk chocolate and wet concrete. With water sulfur emerges, but also green grapes and apples and Wasa Husmann crackerbread.
Palate: Lemon, concrete, malt and a chemical pine needle character. A little sharper with water, but the malt/barley character is also emphasised.
Comments: Pretty good, on the whole. Less fruity than the other two, but it tastes nice enough to leave me wanting more. The impression of concrete interests me (it's an aroma I rather like), and I'll be interested to see if it follows through in the maturation.