Matured in American ex-bourbon casks and finished in Pedro Ximenez ex-sherry casks.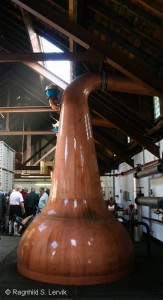 Nose: Raspberry jam, dried fruit and vanilla. With water the jam turns more towards orance marmelade, and there is some burned sugar as well.
Palate: Burned sugar, plum preserves and oak. More bitterness with water, otherwise much the same.
Comments: A somewhat tame sherrymonster, I'd call it. Quite well balanced and not at all bad, but just too sweet for my palate to make the top grade.