It's Ardbeg Day today. Ardbeg Perpeteuum is being launched it honour of the day, but since I've already published tasting notes for that, I had to find something else. So here's a ten year old bottled in 2007 (which is what L7 means, in case you want to check the batch number markings on your Ardbeg bottle).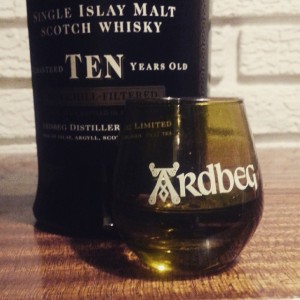 Nose: Slate and bonfire. Dry leather. Over ripe banana. Sand. Water brings out yeast and maritime smokiness.
Palate: Bonfire, salty water and seashore. Something fruity behind it all. With water the fruit turns to unripe bananas.
Comments: The classic, and very, very good. 2007 is "old" Ardbeg. I need to get my hands on a recent ten years old to compare.